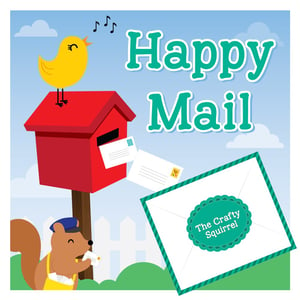 $

20.00
I've decided that if we are all going to stay at home for a period of time we need something to look forward to. Let's get back to basics and have some fun with a little weekly dose of cute crafty goodness and a letter from me delivered directly to your mailbox (you are very welcome to write back to me too if you like!).
Forget bills and boring junk mail, the Crafty Squirrel Happy Mail subscription will be that little bit of joy once a week that brightens your day, gives you a fun crafty project to make, something cute to wear or a little something to decorate your home and bring you joy every time you use or look at it.
The initial subscription service will run for 8 consecutive weeks starting the week beginning Monday 6 April. You may subscribe for one week, 4 weeks or the full 8 weeks. In a nutshell the more weeks you subscribe for the cheaper your weekly subscription cost will be. For example:
$20 for 1 week = $20
$17 a week for 4 weeks = $68
$13 a week for the full 8 weeks = $104
The weekly cost whichever option you choose also includes postage within Australia. From my end mail will be sent out each Monday with week 8's letter going out on Monday 25 May. The cut off date to sign up for this subscription will be Tuesday 31 March.
I'd love to see a fun creative post of your weekly mail too. Use the hashtag #thecraftysquirrelhappymail to share with us.
Thanks for your support.
Best crafty wishes
Morgan x